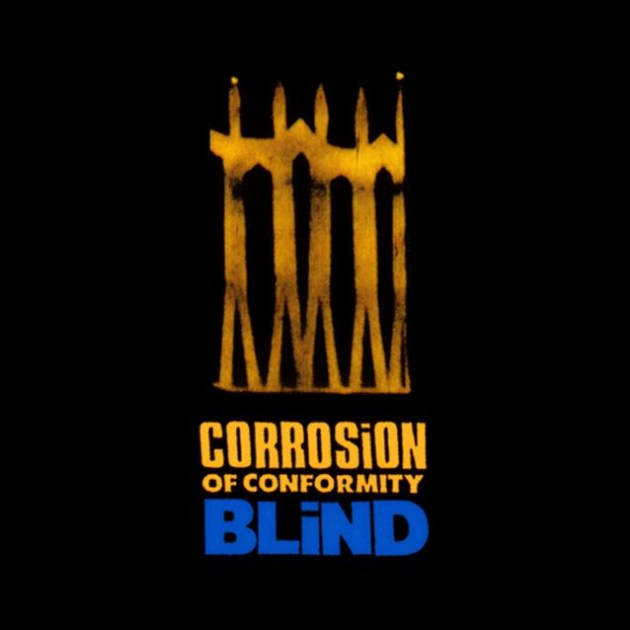 Lots of great stuff was happening in 1991 in the metal underground, the metal mainstream, and all places in between. And it's that in between where Corrosion of Conformity poked their heads up from out of the crossover and hardcore worlds with Blind, a massive, unforgettable record that boosted the band into household-name status. Well, in the cool households, anyway.
Blind was a huge awakening, the band introducing enormous grooves, mammoth riffs, southern swagger and even some capital-R Rock confidence into their angry metallic hardcore. To this day, the album kinda sounds like nothing else, which is why we're kinda crazy about it.
We inducted the album into our Hall of Fame in our September 2014 issue, but with the recent passing of drummer Reed Mullin (head here to listen to our playlist at Apple Music paying homage to Mullin), now is a great time to go back and pay our respects once again to this most massive of records by ranking the songs from least godly to most godly.
13. …Remain
Actually a great idea here, the band closing the album by revisiting opening "These Shrouded Temples…" for a brief wink and nod before it all comes to a close.
12. These Shrouded Temples…
This is one of those rare things: an instrumental opener that works really well as both a mood piece and a song, the band indicating pretty loud and clear here that while their hardcore past is going to remain slightly in vibe, the sound here is something different entirely, a sludge-laden metal that's not afraid of melodies. It's a huge opener, one that announced what was about to happen in an important, but enjoyable, way. I dig "These Shrouded Temples…" and never skip it, which, considering it's basically an intro, says a lot.
11. Shallow Ground
One of the cool things about this record is these interludes, instrumentals, intros, outros… they all work. "Shallow Ground" is an incredible mood piece, the band suddenly sounding like aged and wisened ol' fellas sitting on their porch ruminating on life, love, regret, definitely hinting at albums to come. I actually love this song.
10. Echoes in the Well
Some soulful singing and a great, slow trudging beat are highlights here, as well as a great ascending melody a few minutes in that leads to a—yeah, I'll say it again—soulful guitar solo. The "huge closer" is something COC would master on later albums, and here they're almost there, although this great song goes on a touch too long.
9. Great Purification
This is a cool song—it's a deep-cut sludger that just crushes. I like its blinders-on approach, and there's not really a bad song on the record, this one just falls a bit later on our list mainly because, well, some songs have to. But I dig "Great Purification," the band showing off their heavier side here after songs that prove they can groove, they can write hooks, and they can play in the big leagues.
8. White Noise
Part of the reason some of these songs end up down here and also are a bit more forgotten in time is just due to the album going on a couple songs too long: "White Noise" contains much of what makes the songs higher up on this list great, and features a cool crossover part, too. It's a great song, and its ending absolutely rules.
7. Painted Smiling Face
Always loved that song title, and also always loved the huge, escalating riff opening things up, the band laying down another catchy riff-rocker that is way more proto-Deliverance than I remember it being, COC definitely laying down hints of what was to come with this killer tune.
6. Mine Are the Eyes of God
The first half of Blind is a killer, and COC wind it down with this cool, kinda-weird twisted thrasher. The tune features some unforgettable—and risky, but they work—vocal melodies and great riffing that the band brought from their past but made work within this driving, grooving, damn-near mainstream-metal bruiser.
5. Break the Circle
In which our guys show they know how to groove, big time. They also show an alarming skill for writing songs, and how to make southern-rock riffs fit in a heavy, thrashing framework that nods to their crossover roots and also manages to connect on an emotional level. In other words, holy cow, they got a lot right in this tune.
4. Buried
Man, COC lay it all on the line on this one, saying goodbye to their crossover roots with the huge groove, the snaking bass lines, that unforgettable chorus, which almost makes you feel… good? Good, indeed; like, really good. "Buried" rules, and life rules when it's cranked up.
3. Damned for All Time
This is a great opener, COC showing their new cyborg-metal colors here with this twisting turning crossover-metal anthem, the vocals sounding damn near robotic, everything combining to drop serious jaws here on the first song with vocals on this classic album. There are a couple songs that beat this one out as far as hooky choruses go, but this is an incredible Blind-era COC tune.
2. Dance of the Dead
That "boogie now!" tempo and bass line always threatens to destroy this song, but instead they, improbably, propel it to whole new levels, COC for the first time here tapping into the catchiness that will make Deliverance and Wiseblood two of the best metal albums of the '90s.
1. Vote with a Bullet
What, was there any doubt? Despite the weirdness of the fact that the most well-known song on here was the one song that the singer didn't sing (but the guy who would take over vocals on the next album did), this song absolutely rules, COC suddenly, two-thirds of the way into Blind, really delivering on the promise that they had been hinting at through the rest of the album, burying as a deep track the song that would become one of their defining moments, and indeed the song on the album where they sound the most cohesive, the most unified, the most ready to take over the world, which this band damn near almost did.