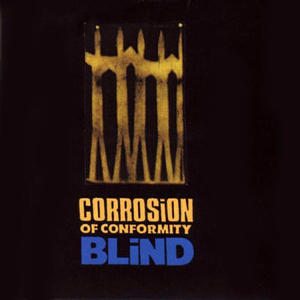 dB HoF NO. 115
Blind
Label: Relativity
Release date: November 5, 1991
—————————————————–
A six-year gap separates underground gem Animosity from its unlikely successor, Blind. True, the Technocracy EP—with Simon Bob on vocals—acts as a bridge, but few, not even Corrosion of Conformity themselves, could've predicted Blind. It was, at heart, Corrosion of Conformity, with fuck-you attitude and DIY sentiment as the left and right ventricles. Around it, however, the Raleigh squadron was different. No longer hardcore or crossover thrash, Corrosion of Conformity had grown up; they'd figured out their musical future through experimentation and sheer trust of ability. Blind was a heavy metal album for changing times, for a populace no longer willing to accept the face value of things.
But Blind didn't come together in a flash. For years, the group didn't have answers to important questions. As in, should Corrosion of Conformity cease to exist? But once the lineup officially solidified in 1989 with the addition of Pepper Keenan on guitars, Karl Agell on vocals—bassist Phil Swisher had joined after Mike Dean unexpectedly vacated—founding members Woody Weatherman and Reed Mullin quickly put uncertainty behind them. The new configuration was informed just as much by Black Sabbath as it was Black Flag. Between was everything else, including lots of sound, structure and melodic experimentation. Allowing the North Carolinians ample space to find their proverbial groove was fledgling producer John Custer. When Corrosion of Conformity entered Baby Monster Studios in NYC in 1990, they were a full-on heavy metal outfit, and Custer was, to a large degree, the group's sonic tactician.
When Blind was released in the fall of 1991, it immediately struck a chord. Corrosion of Conformity's original hardcore/punk fan base was dumbstruck by the new direction, but heavy rotation (on MTV's Headbangers Ball and college radio) of lead single "Dance of the Dead" and follow-up single "Vote With a Bullet" hit hard with a new larger audience, one more receptive to deep grooves, incredible hooks and musical prowess. Although Blind was defined by its video play and market acceptance, these weren't the only killers. "Buried," "Mine Are the Eyes of God" and "White Noise" were also remarkably intense and lyrically relevant. In reality, Blind doesn't have a sleeper on it.
When all was said and done, Blind shifted a massive 250,000 copies. But that's not the point. Heavy metal, the subgenres—southern metal, stoner rock—and bands that followed would never be the same after Corrosion of Conformity defied expectations, ventured into and out of the unknown, and emerged a genuine leader.
Corrosion of Conformity's Animosity already has a seat at our great oak table, but that didn't stop the Hall from welcoming Blind into the ranks of the incredible, the intrepid and the brave.
To read the entire article, purchase this issue from our online store.