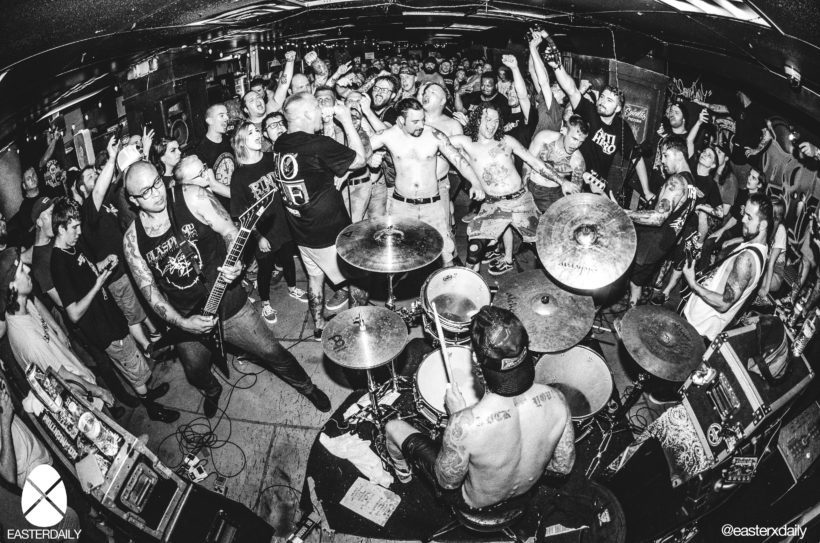 Los Angeles hardcore outfit Terror are an institution in their genre. For two decades, they have spread their love for the genre around the globe, earning a reputation for their positive mindset and truth-to-power lyrics as much as their music itself. Last year, the band released a compilation, Trapped in a World, which featured founding guitarist and current Nails frontman Todd Jones back in the fold for a one-off re-recording of classic Terror songs.
Jones completed two projects with Terror. Trapped in a World, on which he performed, and the band's new album, Pain into Power, where he served as a producer. Unsurprisingly, Pain into Power is Terror's most extreme record since their 2004 LP One With the Underdogs.  Decibel caught up with frontman Scott Vogel to chat about working with Jones, the band's new record and the current state of hardcore for the latest issue of the mag but Vogel had more to say than could fit in print.
For the full story, grab a copy of the issue at the link above and read on for everything that didn't fit. Pain into Power is out this Friday, May 6 and can be pre-ordered now.
This album was engineered, mixed and mastered by Todd Jones and Matt Hyde, who both had major roles in Terror's history. Do you think linking up with those two for the album made a difference on the sound or direction you took it?
Absolutely. Todd Jones is Terror's original guitarist who started the band with our drummer, Nick Jett, and then they brought me into the fold. Todd wrote and was in the band for the first couple years and he wrote our first two records. And then he decided he couldn't handle our extreme touring schedule and left the fold.
Todd produced the new record. He was extremely hands on and he just has a style of writing and it's always extremely aggressive and explosive and brutal. If you listen to the first Terror record, Lowest of the Low, it's really got those elements of Todd in it and he definitely brought that back into the band's fold. Since our very early stuff, this record is our most brutal.
Switching over to Matt Hyde—he did not engineer but he mixed Keepers of the Faith, which is a record that came out for Terror in 2010 and is definitely our most popular record. I'm sure that has a lot to do with the mix he did on it, so with this we brought him back and he mixed this one. Hopefully it's a sound that Terror listeners appreciate.
It seems like it worked out well for everybody.
The last record we did, Total Retaliation, we did the whole thing with Will Putney. He produced and mixed and mastered [the record] and that was a great experience. He's doing lots of amazing things and one of Todd's early ideas was having Will Putney involved in this one, maybe in the more engineering and mixing side but ultimately we decided to keep it in Los Angeles and do it with Matt Hyde.
When you linked with Todd to have a role on this record, did that start with doing Trapped in a World, where he was also involved with that?
It looks that way on the outside but the story actually goes like this. Lockdown happened, the pandemic hit and Terror went on pause, which has never happened. We've toured so consistently for 20 years. In that time, we just started talking to Todd and asked him to produce our new record, which is Pain into Power. We started getting together with Todd with the band members who live in LA because Todd lives in Los Angeles also.
We weren't in any sort of rush so we were just getting together once every other week or something like that and starting to form ideas and form songs. Somewhere in the middle of that, Todd just had the idea to re-record some of the old stuff that he had written and played on. Our drummer Nick Jett has a studio that's a house studio, so it's not like a super big professional studio. We wanted to just record the songs really raw. The ideas was to have it sound like a demo and we just released it ourselves. No label, we just pressed it ourselves and put it out ourselves.
The Pain Into Power stuff started first but since we had so much time and none of us had anything to do, we just one day set up all the microphones and jammed out the Trapped in a World record.
The whole record is just more aggressive and faster. You can hear a lot of Todd Jones on it.
There are full songs written by Terror members that Todd didn't write anything on. There's definitely tons of it that Todd has picked up a guitar and wrote stuff on, but all of it has Todd's fingerprint on it, which is just pushing everything to a level of insanity. When he agreed to produce the record, his thought process was "Terror has a lot of groovy stuff, we have slower stuff, we mix things up. For this one, start to finish, just pure, blazing, in-your-face aggression that doesn't let up." We pretty much close to accomplished that.
Someone would have to check. Lowest of the Low, which is our first real release, is nine songs and I don't know the running time. I know this one is ten songs and it's just under 19 minutes. It's definitely the shortest full length.
Almost a powerviolence record at that point.
In this day and age, it's really hard for people to concentrate on a full album. Our thought process was just, "Let's hit the listener with everything as quick as possible." Hopefully, the ideas was, "Damn, that was good. I want to go back to that," and there's no skipping around.
This is Terror's 20th year as a band and your lyrics and the way you talk about the music and the way that you tour suggests that you're still as passionate about hardcore as when you started. Do you think hardcore is still a scene that is alive and thriving?
Absolutely. I'm trying to think if it's bigger now than ever. Right now, I'm not at every show across the world. I live in Buffalo and go to almost every show that comes to town when I'm in town, so I'm at shows all the time and Buffalo's a smaller city so you can't really compare Buffalo to the rest of the world but just seeing some of the videos of tours and bands that are going our right now. I'm talking straight-up hardcore bands. The scene is really fucking strong and the energy is really good. It seems like violence is really not a part of things right now, which is beautiful. It's just a really open-minded and diverse scene in so many different ways.
I do think it's great and I still do really fuckin' care and I still do get a lot out of it. I think I can speak for everyone in Terror. We're older, it's different, but it's still beautiful.
The first time I saw Terror was on the All Stars Tour in 2013 or 2014. There were a bunch of not-hardcore bands and I remember seeing you guys performing, calling for stage dives and talking about scene unity. You've maintained that the whole time I've been following the band.
I'm very glad you brought that up because sometimes when you take a tour like that, when you're very outside the box or the odd man out. I think on the All Stars Tour, Every Time I Die was on it, but musically our energy was a little bit different. I'm sure there were some people in that room that were turned off by the things that you just mentioned, but to know you saw us for the first time and those things really grabbed you, it makes doing those outside-the-box tours worth it. That's why you do stuff like that.
On this album, you feature musicians from young hardcore bands, Corpsegrinder is featured on the album. You're going on tour soon with Kublai Khan and Sanguisugabogg. Hardcore bands and metal bands are working together, everybody's into it and I think that speaks to the growth of both scenes.
Yeah, absolutely. We did a tour with Dying Fetus and that was really cool. I think it's safe to say at this point that Terror will always be a hardcore band and we're not going anywhere. We're not going to show up with long hair or dyed mohawks and we're not going to put a costume on, our music's not going to change. We're also very open-minded and love different types of music and don't want to always just play for the people that have seen us 20 times. It's great to put together a bill that brings people together that are likeminded and hopefully cross some boundaries. Let some new people see what Terror's about.
Your lyrics are definitely darker on Pain Into Power. What are you writing about? Was it a response to things that were going on in the world, between coronavirus and what feels like a generally-decaying state of the world?
Terror's always had these lyrical themes of pro- or positive things looking at the hardcore and also, at the same time, looking at the world and knowing it can be an ugly, unforgiving, painful place. To try to spin that and to not let that defeat you. Songs like "Overcome" and "Always the Hard Way," "One with the Underdogs." These songs are about, "This world is fucking hard but keep your head up and make your way through it."
I don't think anyone is shocked to hear that the world is just so fucked up right now and so negative and it's hard to keep a smile on your face. It's hard to know right from wrong. What way's up, what way's down, what tomorrow's going to bring. It's just a really confusing, hectic, violent time. Drawing those words of encouragement and positivity was tough. There's some lines on there and some songs that are trying to see the bright side but they're far and few between on this one. It's mostly negativity because that's just what we're doing right now. It's what we're stuck in.
I think that's one of the things that makes the record stand out in addition to the overall aggression we were talking about earlier. A lot of people associate Terror with lyrics like "One with the Underdogs," so to take it in a new direction does make it stand out.
The world's really fucking ugly right now and the plan for the record is to make it as destructive as possible, musically. It wasn't really possible to write happy lyrics. It just wasn't going to happen.
At the end of the day and the first line of the record is "You turned your pain into power." That's saying exactly what I was saying. The world is so crazy but don't let it beat you. Somehow find some power in all the bad that's going on.