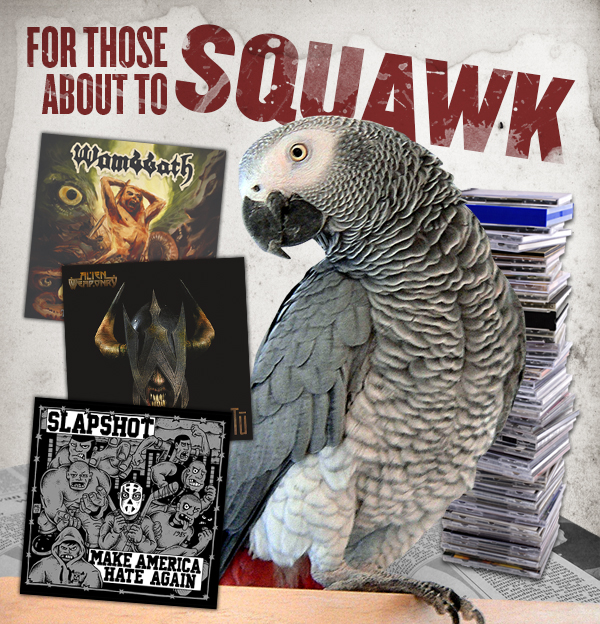 Here we go guys, it's that time again. Your old boy Waldo here to spout some nonsense about some new releases. This week it's looking pretty bleak but hey, we'll get there, right?
So, OSDM (that's Old School Death Metal for those that are not in the know) seems to be making a little bit of a comeback lately. Well, Wombbath from Sweden are no new jacks ripping off an old sound. Originally around in the early 90's, they made an appearance in 2015 and are returning to give us their new full length, The Great Desolation, on Soulseller.  This is old school Swedish death. The production here is dirty as peck, as it should be, and this record kicks beak. This is just plain good death metal and even has some hooks here and there. 7 Fucking Pecks.
Anyone who reads this column knows I'm not a big fan of Napalm Records and Alien Weaponry is no exception. Tu is, well, not good.  The one thing to note here is that they are from New Zealand and claim to be "Maori Metal," which is actually pretty cool. So, what about this?  This is "heavy rock" at best, mixed with a little nü metal and clean "tortured vocals." This is not my thing at all. I had high hopes for a genre called "Maori Metal" but it looks like Napalm has disappointed me as usual. This by no  means is the worst Napalm band—far from it, actually—but it's still not good. Stay away. 2 Fucking Pecks
Feel like some hardcore? Stalwarts SLAPSHOT are back at it with Make America Hate Again on Bridge 9. This is pretty ripping considering Choke and co. have been around forever. This is fun, negative sounding hardcore in the tradition of… Slapshot. Don't get me wrong, this isn't as classic as Back On The Map, but it's got energy, hooks, catchy gang vocals and some mosh riffs thrown in here and there. Vocalist Choke sounds as good as he ever did. If energetic hardcore is your thing, then Make America Hate Again is your thing. If you know nothing about Slapshot, this is a pretty good introduction to the band. 8 Fucking Pecks.
Well, until next time… Waldo.