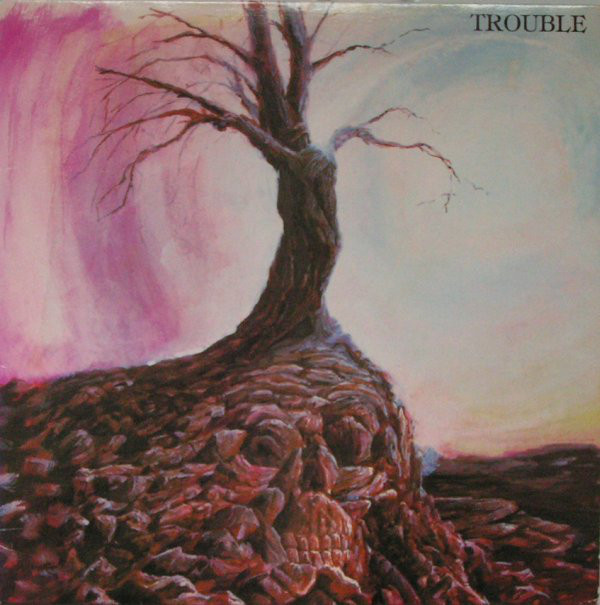 DB HOF NO. 58
The making of Trouble's "Psalm 9″
released: 1984
label: Metal Blade
—————————————————–
It's strange that the one of the cornerstones of doom is actually one of the most lyrically positive albums in the entire secular metal canon. Chicago quintet Trouble may have been tagged as playing "white metal" (a creation of their label, Metal Blade, at the time) and were considered by some to be Christians proselytizers, so strong was the pro-Christian message in vocalist Eric Wagner's lyrics, but these guys—guitarists Bruce Franklin and Rick Wartell, bassist Sean McAllister and drummer Jeff "Oly" Olson—definitely weren't Bible thumpers. They were, more than anything, simply Black Sabbath disciples whose take on the Sabs' bluesy gloom involved dueling lead guitars and a profound emphasis on spiritual lyrics.
Released on Metal Blade in 1984, amidst the nascence of thrash and speed metal, Psalm 9 (which was originally just called Trouble) sounded unlike virtually anything else at that time. While most underground bands were racing to play faster and faster, and the L.A. glam scene had major labels scouring the clubs to find the next Ratt or Mötley Crüe, Trouble—blissfully detached from any scene—were perfecting a loping, sludgy rumble that was a fresh take on the first generation of metal bands, from Sabbath to Uriah Heep. Doom as a genre didn't exist, though bands like Witchfinder General in the U.K., Saint Vitus in California and Pentagram in Virginia were following a similar path, all for the most part blissfully unaware of each other.
For sheer heaviness, however—lyrically, production- and riff-wise—none of those other bands ever issued an album remotely as leaden as Psalm 9. Though recording techniques have obviously improved dramatically over the last 25 years, the sonic weight of this album—from the foreboding opening notes of "The Tempter" to the steamrolling title track that closes it—has to this day rarely been matched, though many bands have tried. This is not a perfect record—the members freely acknowledge that—but it surely set a high water mark for sonic thickness that still sounds impressive today. And though they weren't a Christian band, considering the juxtaposition of Wagner's lyrics (and his unholy wail) with the wicked-sounding riffs, it's easy to see why Psalm 9 left such a lasting impression, and continues to be regarded as one of the most important doom albums ever.
—Adem Tepedelen
To read the entire article, purchase this issue from our online store.